The 24 Hours of Le Mans
The Museum honours the 24 Hours through famous cars such as the Peugeot 908 HDI FAP or Jaguar XJR11, the Courage Valiant, the Alpine A220, the René Bonnet Aerojet and Panhard DB. Alongside them is one of the two cars enrolled at Le Mans by Michel Hommell in 1994, the Aston Martin DB7. Whereas the Bugatti EB110LM who ran in 1993, she joined on another collection.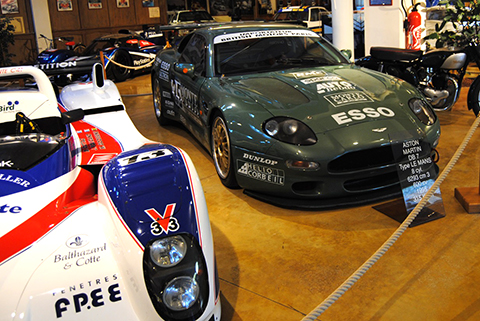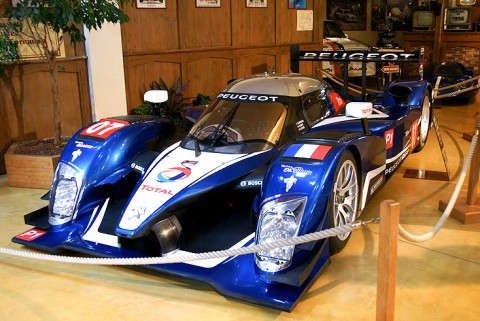 WORLD RALLY CHAMPIONSHIP: THE GROUP B

You will have the pleasure of admiring the cars that composed groups B of Rally Championship.
1985 AUDI Quattro S 1 – 4 RM
1986 CITROEN BX 14 TC Evolution
FORD EUROPE 1986 RS 200 4WD
LANCIA 1984 037 Coupe
1985 Lancia Delta S4 – 4 RM
MG Metro 1986 6 R 4
PEUGEOT 1986 205 T 16 Evolution 2
1986 RENAULT R 5 Turbo Maxi
THE ALPINE
 ALPINE RENAULT 106
Making the clumsy Renault 4 CV a true Grand Touring, à la française; this is the original idea of Jean Rédélé, originally from Normandy, young graduate from HEC and a very skilled pilot. Following the first special Renault, a coach born in 1952; will succeed an A 106 Coupé, a smart and harmonious cocktail made of a 4 CV platform and mechanic, dressed by the Chappe brothers in a plastic laminate body. And the Alpine was born.
 ALPINE RENAULT 1600S
The escalation continues. The engine of the Renault 16 TS that was fitted to the Alpine 1600, had a capacity of 92, then 138 horses. In the 1969 Salon appears the 1600 S. The Renault 16 TS has been further improved. A reworked distribution provides it with 138 hp.
RENAULT ALPINE A 110 GT 4
The GT 4 presents itself like a GT 2 + 2, yet roomier thanks to a wheelbase increased by 10 cm, reaching 227 cm. Born as the version 956 cm3, this Coupé will monitor the evolution of the house engines. The GT 4 was also called A 110 L (for long!).
ALPINE RENAULT  A 110 GT 4
La GT 4 se présente comme une GT 2 + 2, plus spacieuse grâce, notamment, à un empattement augmenté de 10 cm, atteignant 227 cm. Née en version 956 cm3, ce Coupé suivra l'évolution des moteurs maison. La GT 4 fut aussi appelée A 110 L (pour longue !).